"The last three or four reps is what makes the muscle grow. This area of pain divides the champion from someone else who is not a champion. That's what most people lack, having the guts to go on and just say they'll go through the pain no matter what happens."
- A. Schwarzenegger
Adomas and Brigita about SkyGym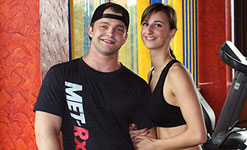 Skygym was the first gym I started to attend, and I didn't even think there could be better anywhere else.
Coaches are helpful, always keen to help and explain… Also, other people in the gym never refuse to help and explain.
SkyGym has a cozy feel to it – I feel at home here.
Here I exercise, eat, meet friends and meet new people…